Adopt A Family program provides magical holiday for 650 children who otherwise would not have gifts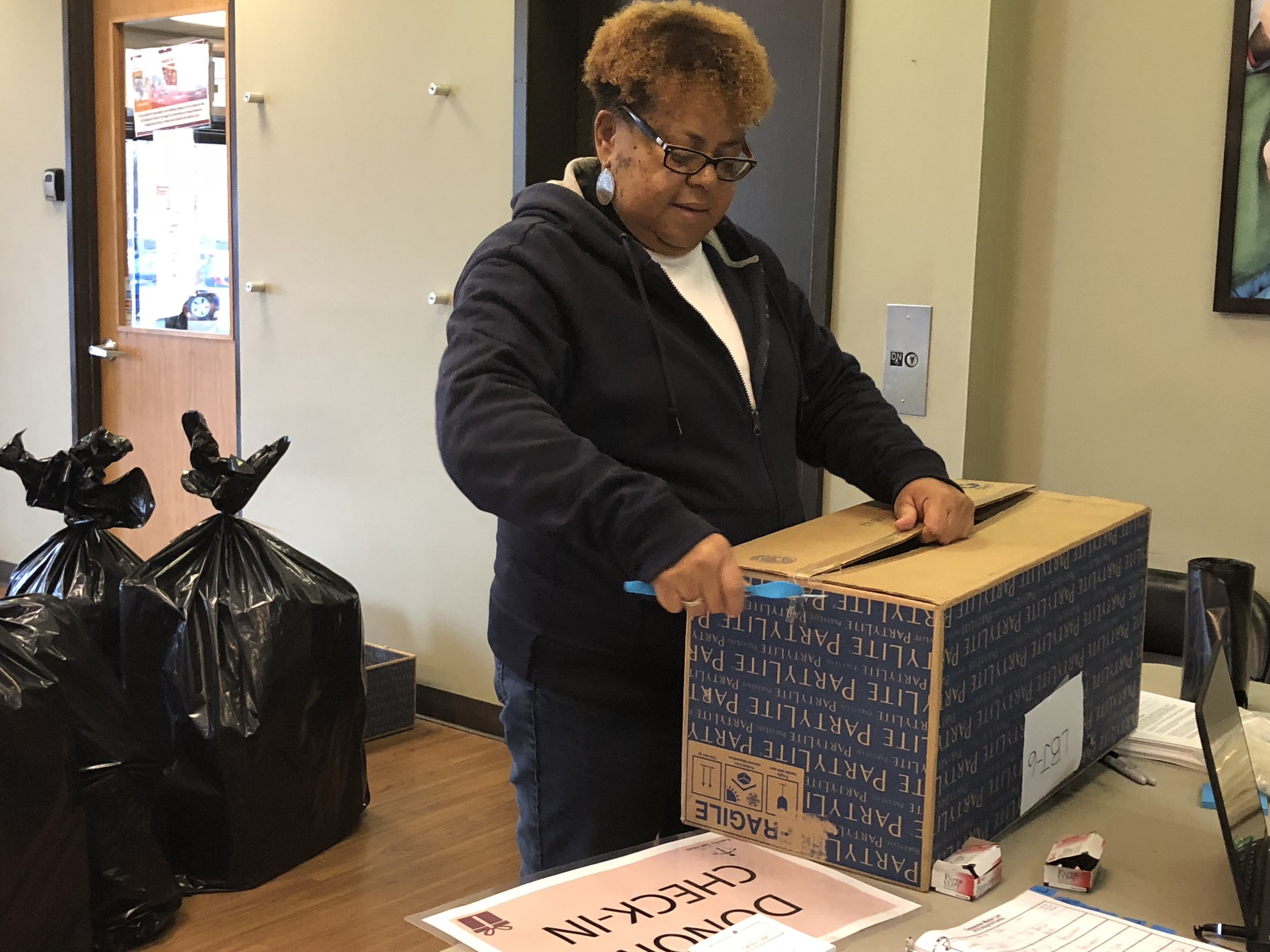 Pat McCarty reached inside a van and grabbed a pink and turquoise Girl Talk bike with silver and pink metallic tassels hanging from the handlebars. The bike, donated by the Penske Corporation, is sure to make a little girl happy this holiday season!
McCarty, a 64-year-old retiree from Royal Oak, was among the volunteers who helped make the holidays magical for Oakland Family Services' clients by loading, unloading and tagging presents for the Adopt A Family program. McCarty, whose daughter works at the agency, adopted a family last year and decided he wanted to do more this year by volunteering.
"Our grandchildren have three sets of grandparents and two sets of great grandparents and get so much for the holidays," he said. "It's more fun to do this."
Volunteers had their work cut out for them this year. Thanks to the generosity of donors, boxes and garbage bags stuffed with presents at one point covered almost every speck of the front lawn at Oakland Family Services! That's good news considering the agency has more clients this year in need of assistance. The Adopt A Family program will help 260 families who otherwise would not have gifts, up from 220 families last year.
St. Patrick Catholic School and members of the church in White Lake alone brought two U-Hauls stuffed with garbage bags full of presents for 25 families. In late October, sports teams, school classrooms, National Junior Honor Society members and those involved in religious education began gathering items for families who have between one and six children. After everything was collected, they held a wrapping party so the kids could get the gifts ready for delivery.
"We want the kids to have a different experience than just having Mom and Dad buy gifts, so they can understand the needs of the community," said Faith Formation Coordinator Shannon Fresquez, who organized the collection with Office Manager Cathleen Stopchinski. "Some kids bought gifts with their own money, and some donated new toys that they didn't use. Our Pope says to be joyful and giving, and this is a way we can do that."
More than 650 children will benefit from the Adopt A Family program. Knowing that many children will have gifts makes Dan Ruzylo happy. The first-time volunteer remembers how he would wake up on Christmas morning surrounded by family and see the smiles on his parents' faces as he opened presents.
"Now one of the most fun memories I have is shopping for people I haven't met," said Ruzylo, 61, relationship manager for Wells Fargo's Commercial Lending Department, which adopted a family and provided volunteers. "This gives you a good feeling to help those who otherwise wouldn't have gifts."
Teri Sadlier of Troy chose to volunteer for the Adopt A Family program because the agency provided services many years ago to his family members.
"It's a little pay back," the 64-year-old man said while taking a break from placing wrapped gifts into large, black garbage bags. "I hope the families have a great Christmas and know someone out there cares about them."
Jackie Scott, 59, of Farmington Hills, learned about Adopt A Family through Sisters of Christ, a group in the Farmington Hills and West Bloomfield area.
"I'm big on kids waking up and having a smile on their face, and it pains me to know some don't have that," she said. "It's a blessing I can do this, and I know we need to give back to the community."
Volunteers from Flagstar Bank in Troy, Wells Fargo Bank in Birmingham, Fox Run Village in Novi, and Rush Trucking also spent time at our Pontiac location helping with Adopt-A-Family tasks.
Valerie Mercadante, development and engagement Coordinator at Oakland Family Services, said volunteers are the backbone of the Adopt A Family program.
"Absent volunteers, Oakland Family Services truly would not be able to provide holiday cheer to our clients," she said. "From helping donors unload their vehicles, to moving heavy packages to storage areas and assisting families when they come in to pick up their items, our volunteers have a direct impact on the success of this program, and in the process they brighten the holidays of children they will never meet and encourage others in their community to get involved."
In addition to much-appreciated individual donors, Oakland Family Services had 54 corporate donors participate in the Adopt A Family program. The agency would like to thank Beaumont Hospital in Troy, Penske, and St. Patrick Parish and school for adopting at least 10 families.